June 14, 2022
SERGEY SCHEPKIN HAS COMPLETED HIS BEETHOVEN SONATAS CYCLE
The 32 Beethoven piano sonatas appeared in ten live and virtual concerts, from the fall 2019 until the spring of 2022. Because of the COVID-19 pandemic, most of the concerts had to be made virtual. The videos will be made public at some point in the summer or fall of 2022.
March 6, 2021
GLISSANDO CONTINUES WITH ITS BEETHOVEN PIANO SONATAS PROJECT
Sergey Schepkin appears in virtual concerts on the Glissando series performing Beethoven's three sonatas in C minor—Op. 10/1, Op. 13 ("Pathétique"), and Op. 111—from March 21 to March 28 and two sonatas in C major—Op. 2/3 and Op. 53 ("Waldstein")—from May 2 to May 9.
Please access these performances on Eventbrite. Tickets are $18.65 (the price includes the fees and tax).
June 12, 2019
GLISSANDO ANNOUNCES ITS SECOND SEASON, BEETHOVEN+!
After the great success of its first season, Bach at 333, Glissando is happy to announce its second, Beethoven+, dedicated to the upcoming 250th anniversary of Beethoven's birth. The season will consist of six concerts, focusing mainly on piano music, including music for piano four hands and for two pianos. It will open with two piano recitals, featuring eight Beethoven sonatas; eventually, all thirty-two piano sonatas of the Master will be performed over the course of the next two or three seasons.
FOR MORE INFORMATION, PLEASE VISIT www.glissandoconcerts.com.
August 4, 2018
THE GLISSANDO WEBSITE IS UP AND RUNNING!
Please visit the new GLISSANDO site at https://www.glissandoconcerts.com. GLISSANDO thanks Kathy Chapman for the outstanding design.
July 24, 2018
SERGEY SCHEPKIN TO LAUNCH A NEW CONCERT SERIES IN BOSTON IN THE 2018-19 SEASON
Sergey Schepkin is launching a new concert series, GLISSANDO. Its first season will celebrate Bach's 333rd birthday anniversary. The eight concerts of the series are taking place at the First Church in Boston (66 Marlborough Street in Back Bay) on Sundays at 4 PM. They include five chamber concerts, a voice and piano recital, and two solo piano recitals. The programs are centered around Bach's music, and explore its connections–some direct, some not so obvious–with the music written before and after (sometimes well after) him. The series will also celebrate composers whose dates of birth and death are commemorated in 2018 and 2019.
The inaugural concert is on September 23. It will include several transcendental chamber works of Debussy, whose centenary of death is this year, as well as Bach's at once recondite and moving Musical Offering (Deborah Boldin, flute; Jason Horowitz, violin; Owen Young, cello; and Sergey Schepkin, piano and harpsichord).
The other dates are:
October 21: Bach's brilliant six keyboard Partitas (Sergey Schepkin, piano).
November 18: the day before the 190th anniversary of Schubert's death; the program will include Schubert's immortal "Die schöne Müllerin" song cycle, as well as Bach's sublime aria "Schlummert ein, ihr matten Augen" from the Cantata BWV 82 (Darren Chase, baritone, and Sergey Schepkin, piano).
December 16: Bach's diverse, profound, and exciting six Sonatas for violin and obbligato keyboard (Robyn Bollinger, violin, and Sergey Schepkin, piano).
January 13: Bach's poetic and intricate four Duets and monumental Goldberg Variations (Sergey Schepkin, piano).
February 17: a juxtaposition of Bach's sparkling Concerto for two solo keyboards with the effervescent Stravinsky Concerto for two solo pianos and the glittering Rachmaninoff Second Suite for two pianos (William Davidson, Ian Lindsey, and Sergey Schepkin, pianos).
March 17: Tempo di Pavane – a concert of Pavanes from different eras, celebrating St. Patrick's Day by performing the (purportedly) Dublin native John Dowland's most famous work, the Pavana Lachrymae ("Flow, My Tears"), arranged for the keyboard by his contemporaries Jan Pieterszoon Sweelinck, William Byrd, and Giles Farnaby; also celebrating the 39th birthday of the renowned American composer and Harvard '02 alumnus Christopher Trapani by bringing back his luminous Pavane for violin and piano, performed only once, at Harvard, almost two decades ago. The concert also features a very Elizabethan-sounding Bach's Fantasia and Fugue in A minor, BWV 904, as well as some French music: the exotic harpsichord "Pavanne" by Louis Couperin, the charming Pavane by Gabriel Fauré for violin and piano, and two well-known works by Maurice Ravel (born in March like Bach and Trapani)–the piano Pavane for a Deceased Infanta and the G-major Sonata for violin and piano (Jason Horowitz, violin, and Sergey Schepkin, piano and harpsichord).
May 5: anticipating the 2019-20 season, dedicated to Beethoven, by performing music by the three great B's: Bach's mighty Third Sonata for viola da gamba and keyboard; Beethoven's intimate Tenth Sonata for violin and piano, Op. 96; and Brahms's towering Second Trio (Jason Horowitz, violin; Rafael Popper-Keizer, cello; and Sergey Schepkin, piano).
Tickets are available through Brown Paper Tickets (www.brownpapertickets.com); for the links, click on the Glissando tab on this site and scroll down. A limited number of tickets will be sold at the door. You can also use the contact form on this website to reserve seats. $35 general admission; $30 seniors; $10 students with a valid ID. A $30-$40 discount will be offered to those who subscribe to the entire season ($250 general admission; $200 seniors).
October 8, 2016
CHECK OUT JAMES MANHEIM'S REVIEW OF SERGEY'S NEW BACH PARTITAS ALBUM ON ALLMUSIC:
http://www.allmusic.com/album/release/bach-the-six-partitas-mr0004569709
October 6, 2016
CHATHAM UNIVERSITY, PITTSBURGH CONCERT CANCELED
The October 10 concert by Cyrus Forough and Sergey Schepkin has been canceled owing to Sergey's illness. Their October 17 concert at Carnegie Mellon University is expected to proceed as scheduled.
October 5, 2016
CHECK OUT THE INTERVIEW WITH JOHN MARKS ON THE TANNHÄUSER GATE WEBSITE:
http://thetannhausergate.com/index.php/2016/07/29/qa-with-sergey-schepkin/
ALSO, CHECK OUT JOHN MARKS'S REVIEW OF SERGEY'S NEW BACH PARTITAS ALBUM:
http://thetannhausergate.com/index.php/2016/07/14/sergey-schepkin-j-s-bach-the-six-partitas/
July 28, 2016
SCHEPKIN'S NEW ALBUM OF THE SIX BACH PARTITAS IS THE WGBH CD OF THE WEEK!
Read more.

July 24, 2016
CYRUS FOROUGH AND SERGEY SCHEPKIN TO COMPLETE THE CYCLE OF BEETHOVEN SONATAS FOR PIANO AND VIOLIN (see The 2016-17 Season page)
July 8, 2016
THE NEW ALBUM OF THE SIX BACH PARTITAS RELEASED BY STEINWAY & SONS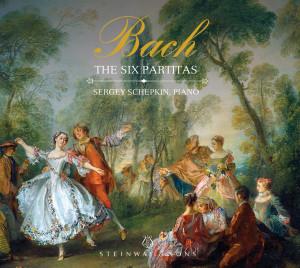 June 21, 2016
THE RAVE REVIEWS OF THE CHAMELEON ARTS ENSEMBLE FATHER'S DAY CONCERT AT THE ROCKPORT MUSIC FESTIVAL 
http://www.classical-scene.com/2016/06/21/chameleon-rockport/
http://artsfuse.org/146905/fuse-concert-review-chameleon-arts-ensemble-pay-glorious-respect-to-father-and-sons/
July 14, 2015
SCHEPKIN'S ALBUM OF BACH'S FRENCH SUITES RECEIVES PRAISE FROM THE GRAMOPHONE MAGAZINE (UK)
In his review, the distinguished critic Bryce Morrison writes, among other things, the following:
"Russian-American pianist Sergey Schepkin leaves you in no doubt why Bach is at the heart of his repertoire. And his performances of the six French Suites, two differing takes on the A minor Fantasia and Fugue and the Chromatic Fantasia and Fugue are of exemplary precision and lucidity. […] Scholarship is complemented with playing devoid of egocentricity, […] in which everything is made seamless and natural, though with no loss of character. Bach is always allowed his own voice […] Schepkin is gentle and heart-warming in the Second Suite's Allemande, lively but unforced in the Courante. There is a special sense of joyousness in the Fifth Suite, where in the final Gigue his sparkle declares his enviable technique, though one never on display for its own sake. Try the Courante from the Sixth Suite for an example of Schepkin's effortless-sounding command or the Gavotte for an irresistibly perky rhythmic spring."
June 24, 2015
LONDON: SCHEPKIN JUMPS IN TO FILL IN FOR THE ORCHESTRA HELD UP BY A FERRY DRIVERS' STRIKE
Sergey Schepkin, scheduled to play the Mozart A-major Concerto (K. 488) with the Cologne-based orchestra Kammerphilharmonie Europa on June 23 for the Proms at St Jude's, a festival in Hampstead, London, accepted the festival's invitation to perform a half-recital on a five hours' notice: the orchestra was detained in Calais, France, by a ferry drivers' strike and could not be in town even for the dress rehearsal. Sergey played three Debussy Preludes and the Bach Sixth Partita, which he had not performed or practiced since late February. The orchestra, originally scheduled to perform a full program, took a ferry from Dunkirk and made it for the second half, in which Schepkin did perform his concerto without a rehearsal and the Russian trumpeter Kirill Gusarov, who was traveling with the orchestra, played Hummel's Concerto in E-flat as originally scheduled. The concert got a positive review in London's Evening Standard.
March 15, 2015 – ONLINE REVIEWS OF SCHEPKIN'S ALBUM OF BACH'S FRENCH SUITES
Classics Today
AXS.com
The Boston Musical Intelligencer
CD Hotlist
Infodad.com – Bach and Beyond
Artamag (France) – Esprit de Suite
Stereo Times
December 15, 2014 – SCHEPKIN'S RECORDING OF BACH'S FRENCH SUITES IS THE WGBH CD OF THE WEEK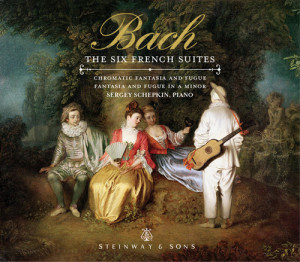 November 17, 2014
SERGEY SCHEPKIN'S RECORDING OF BACH'S FRENCH SUITES RELEASED BY STEINWAY
Sergey Schepkin's new album of Bach's six French Suites, Chromatic Fantasia and Fugue, and Fantasia and Fugue in A minor (BWV 904) has just been released by Steinway & Sons. The album is marketed throughout the world. In June, Schepkin pressed three hundred copies of the album at his own expense; after the Steinway release they have become a collector's item. To purchase the original version of the album, please get in touch with Sergey Schepkin via the Contact page of this site; to purchase the Steinway & Sons release, please visit www.arkivmusic.com.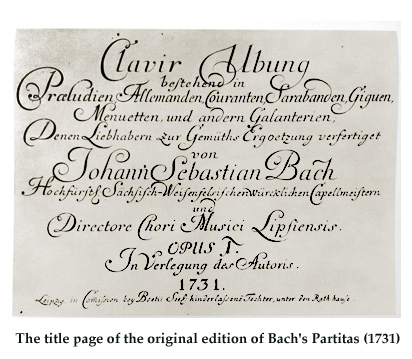 August 1, 2014
SERGEY SCHEPKIN TO PERFORM AND RECORD BACH'S PARTITAS
Bach's six Partitas, published in 1731 at the composer's own expense as his Opus 1 under the title "Clavier-Übung" (Keyboard Practice), are considered among the most engaging, complex, and beautiful keyboard works of all time. Johann Nikolaus Forkel, Bach's first biographer, wrote in 1802:
"This work made in its time a great noise in the musical world. Such excellent compositions for the clavier had never been seen or heard before. Anyone who had learnt to perform well some pieces out of them could make his fortune in the world thereby; and even in our times, a young artist might gain acknowledgment by doing so, they are so brilliant, well-sounding, expressive, and always new." (Translated by Arthur Mendel)
Sergey Schepkin started performing Bach's Partitas as a cycle twenty years ago, while he was a doctoral student at New England Conservatory; his first doctoral recital in 1994 was a presentation of these six works. Schepkin's Partitas concerts garnered him great acclaim from The New York Times and The Boston Globe. After his 1995 Partitas recital at Weill Recital Hall in New York City, the Times wrote the following:
"Sergey Schepkin is an extraordinary young pianist who has made the keyboard music of Bach his central preoccupation. … Two years after his New York debut, he played Bach's six Partitas with striking purity of tone, complete technical control and restless intelligence. … Mr. Schepkin's lofty perspective held one mesmerized. … His next thoughts on this repertory are eagerly awaited."
Schepkin went on to record the six Partitas in 1995; the recordings (two volumes) were released in 1996 and 1997 by the Boston-based Ongaku Records. Both volumes were nominated for the INDIE Award, and the reviews were enthusiastic. The BBC Music Magazine gave it five stars – its top rating – and the Fanfare magazine wrote:
"The arrival of Sergey Schepkin on the recording scene seems to me to have – if you pardon the crassly commercial metaphor – raised the stakes for every player who essays Bach. … So extraordinary are the achievements of this young man … that they set a new standard. … We are, in other words, face-to-face with music history in the making. … No one who loves Bach can afford not to listen to these performances."
Since then, Schepkin repeated the cycle for New York's Bargemusic and the Newport Music Festival, and has played the Partitas separately on numerous occasions, most notably in Alice Tully Hall at New York City's Lincoln Center in 2004. The New York Times characterized his playing of the Fourth and Fifth Partitas there as "the picture of Apollonian elegance", and continued:
"In both works, the individual strands were precisely rendered and the music's textures were perfectly transparent. Where Bach left room for ornamentation, Mr. Schepkin provided stylish turns and elaborations. And within the logically ordered world of Bach's music, Mr. Schepkin conveyed the characteristics that set these works apart: the stately, almost orchestral quality of the Partita No. 4, for example, and the more unbuttoned, lively aspects of No. 5." 
To celebrate the twentieth anniversary of his first Bach Partitas presentations, Schepkin is now embarking on a three-concert tour. The first recital will take place at 7:30 PM on Saturday, October 11 in Pittsburgh, at Carnegie Mellon University's Mellon Institute; it will be the pianist's annual faculty recital there. The second concert will take place at 7 PM on Thursday, October 30 in New York City's Greenwich House in Greenwich Village (the Renée Weiler Concert Hall). Finally, Schepkin will play the Partitas at 3 PM on Sunday, November 16 for the celebrated Rockport Music festival in Rockport, Massachusetts, at the beautiful Shalin Liu Performance Center.
Prior to the tour, Schepkin will be making a new recording of the Partitas in Jordan Hall, New England Conservatory, Boston, where he also teaches.
Main photo of Sergey Schepkin by Michael Lutch